Blog - 2018
January 2018
6/1/2018 - Leigh-on-Sea to West Ham and return. London Waterloo to Mortlake. Chiswick to Kew Bridge. Kew Bridge to London Waterloo.
Went up to London to take pictures of bridges by the river Thames for a book I am working on.


15/1/2-18 - Leigh-on-Sea to London Fenchurch Street and return.
Went up to London for an evening talk in Central London.

20/1/2018 - Leigh-on-Sea to London Fenchurch Street. London Paddington to Bath Spa. Bath Spa to Westbury and return.
Went up to Bath, primarily to go to a concert at the Forum to see King King, but also to travel on some lines I hadn't been able to cover last year.


21/1/2018 -Bath Spa to Bristol Temple Meads. Bristol Temple Meads to Taunton. Taunton to London Paddington. London Fenchurch Street to Leigh-on-Sea.

Came back vis Bristol and Taunton. Had an hour's break in Taunton, but was not able to exit the north side of the station through the ticket barriers as my ticket wouldn't work. So went to the south exit where it also wouldn't work, but there was an inspector there who manually let me through. Returning back to the north exit I had the same problem with a different ticket. As there wasn't anyone there I had to press the button for help and had to show my ticket onto a screen for the inspector to read before he let me through. This was a first for me, but begs the question are the ticket barriers at Taunton Station not working properly?
---
February 2018
No railway journeys made this month
---
March 2018
17/3/2018 - Leigh-on-Sea to London Fenchurch Street and return. London Euston to Quainton Road via Milton Keynes, Bedford, Hendon, Acton, Greenford, Princes Risborough and Aylesbury. Quainton Road to Reading via, Calvert, Clayton, Bicester and Oxford.
Went on the UK Railtours excursion named "The Missing Link". It covered as much as possible of the old Varsity Line between Oxford and Cambridge that is still open today. This included the Bletchley Flyover, the freight line from Hendon to Acton and the line north of Quainton Road to Calvert and Clayton. Unlike most Railtours this ran pretty much on schedule. The only thing that "went wrong" was that the line was flooded near Clayton, so we couldn't go all the way along that stretch of line. It meant that we were about ten minutes early at Bicester so had to wait there until a path was available. The positive for me was that they allowed passengers to get off at Reading, so I was able to travel through to Paddington and so get back into London an hour earlier than scheduled.
23/3/2018 - Leigh-on-Sea to London Fenchurch Street. London Paddington to Worcester Shrub Hill. Worcester Foregate Street to Ledbury. Ledbury to Bromsgrove. Bromsgrove to Droitwich Spa. Droitwich Spa to Jewellry Quarter.
Had to go to Hereford on business and as so often happens whenever I go on a GWR train out of Paddington there were problems with my journey. That makes it three times in just over a year! This time the problem was the state of some of the sleepers on the stretch of line between Ledbury and Hereford, which caused this section of the line to be closed. Consequently there would be no GWR trains to Hereford. When I got to Paddington it said the train would go as far as Worcester Foregate Street and then coaches would take you to Hereford. What happened in reality was that the trains were terminating at Worcester Shrub Hilll and then coaches were taking you from there to Hereford stopping at all the stations on the way. Luckily I did see that West Midlands trains were still going as far as Ledbury, so I was able to get one of these from Worcester Foregate Street. I culd then get a coach to and from Hereford which was a damn sight quicker than by going on a coach all the way from Worcester. Coming back from ledbury I went straight through to Bromsgrove where I could explore the new station with its four platforms. It was quite surreal with no one around once the passnegers had left the station. Although it does have a ticket office on the outside the entrance hall was quite dark, plus it is gateless, so no staff were standing around. Although there were plenty of CCTV cameras it seemed strange to see such a big station without any staff. Very futuristic in a negative way. It was also a little way from the town centre so it seemed a bit out on a limb for the locals.
I then caught a train back to Droitwich Spoa and changed trains there getting a train north into Birmingham. I got off at Jewellry Quarter so I could get a tram into the centre and go on the newish piece of track to New Street Station which is branded as "Grand Central".
24/3/2018 - Birmingham New Street to Bristol Temple Meads. Bristol Temple Meads to London Paddington via Westbury and Newbury. London Fenchurch Street to Leigh-on-Sea.

The next day I get a Cross Country train from New Street to Bristol Temple Meads, not having travelled the full length of this line since the 1970s. The four carriage train was quite empty as far as Cheltenham, but it soon filled up and by Bristol Parkway it was tanding room only. When I got off at Bristol Temple Meads, you could see that it was till very full for, though the first clss carriage was only a quarter full. Isn't it time all the TOCs got rid of 1st Class which is never ever full and a waste of space on many trains, especially at weekends? Coming back from Bristol to London my train was diverted after Bath via Westbury and Newbury so was a good forty five minutes late getting into Paddington. Sadly, although I saw several of the new Class 800's trains pass me, the ones I travelled on were good old fashioned 125's.
---
April 2018
14/4/2018 Leigh-on-Sea to West Ham and return. London Waterloo to Twickenham. Richmond to London Waterloo.
Went over to South West London to take some photos for a book I am doing on London's bridges.

21/4/2018 Hadley Wood to Moorgate and return. Canada Water to Rotherhithe and return. Canada Water to Surrey Quays.

Went to the Southern Docklands area of London and to Canary Wharf to take some photos for my book on London's bridges.

28/4/2018 Leigh-on-Sea to West Ham and return.

Webt to the northern Docklands area to take more photos for my book on London's bridges
---
May 2018
5/5/2018 Leigh-on-Sea to London Fenchurch Street. London St Pancras to Sheffield. Sheffield to Romiley. Romiley to Manchester Piccadilly via Reddish North. Manchester Piccadilly to Wigan North Western via Eccles.

Went up to Manchester for the weekend, primarily to see the 50th anniversary concert of Barclay James Harvest in Manchester. Also managed to get in a few different lines in the area. I went up to Manchester via Sheffield as I wanted to go along the Peak Distrct route and stop off in Romiley on the way, where I was able to meet up with a friend I hadn't seen for forty years. I then went into Manchester, where I should have got a train to Horwich Parkway via the Bolton route, but that route was closed due to electrification work. Instead I got a Trans Peninne Express train tio Wigan North Western via Chat Moss and the line linking this route with the West Coast mainline.


6/5/2018 Wigan Wallgate to Southport. Southport to Manchester Oxford Road via Eccles. Manchester Oxford Road to Manchester Victoria. Manchester Victoria to Todmorden and return. Manchester Victoria to Stalybridge. Stalybridge to Manchester Oxford Road.


The next morning, using a Manchester area Wayfarer ticket, I went first from Wigan to Southport and back. Then on into Manchester via the same route I had come along yesterday. Interestingly enough the train went on a little used line from Wigan Wallgate onto the West Coast mainline. I then caught a train from Manchester Oxford Road round the new Ordsall Curve to Manchester Victoria and onto Todmorden. The train itself was going all the way to Leeds. After coming back into Manchester I then caught a train out from Victoria to Stalybridge and then back to Oxford Road, before going to the concert in the evening.
7/5/2018 Manchester Piccadilly to Crewe via Manchester Airport. Crewe to Derby. Derby to London St Pancras International. London Fenchurch Street to Leigh-on-Sea via Tilbury.
The next morning on my return, I first caught a train to Manchseter Airport and onto Crewe, before going across to Derby via Stoke. Then I caught an East Midlands train back to London.
13/5/2018 Rayleigh to London Liverpool Street and return. London Liverpool Street to Cambridge and return.
Went up to Cambridge for the day. I could have gone from Kings Cross non stop to Cambridge via Letchworth but the fare was about three times as much as going from Liverpool Street. Plus the route is a lot more interesting in my opinion.
18/5/2018 Leigh on Sea to London Fenchurch Street. London Euston to Stockport.
Caught a Virgin Train up to Stockport for the weekend. Although it said on the indicator at Euston that my carriage was full, there were plenty of seats all over the train. Plus for a change I was given a table seat facing forwards as per my request.
19/5/2018 Stockport to Carlisle via Manchester Victoria, Preston, Carnforth and Workington. Carlisle to Stockport via Appleby, Clitheroe, Blackburn, Chorley and Manchester Victoria.

Went on the Statesman run train originating at Nottingham going to Carlisle via the Settle & Carlisle line. Although on the website we would go up to Carlisle via the S & C and then come down via the Cumbrian Coast line, due to Network Rail interference, we went the other way round. I think it worked better as we were able to see much of the coast from a forward facing northern going train, including the coast of Scotland on such a fine day. Coming back the weather was again fine, so we could see the lovely scenery of the S & C. The driver even slowed down as we went over the Ribblehead Viadust so everyone could get a good photo. Going up we were about fifteen minutes late arriving in Carlisle, so we were only there for one hour and twenty five mniutes, which was clearly not enough time to enjoy our visit. I felt sorry for the folks having the evening meal as we left at 15.05 and they were serving the meal almost as soon as we left Carlisle!

20/5/2018 Stockport to Stafford. Stafford to London Euston. London Liverpool Street to Rayleigh.
Had a pleasant journey back to Essex, going ifrst on a very crowded Cross Country train to Strafford, over the Norton Bridge flyover for the first time, and then an averagely full Virgin train to London. Again we were given table seats facing forward as per my preference when buying the tickets. But both times when we got on the train there was someone sitting in our seats. Luckily my presence made them move pretty quick!
28/5/2018 Leigh-on-Sea to West Ham and return. Kensington Olympia to Imperial Wharf. Imperial Wharf to Clapham Junction. Clapham Junction to London Waterloo.
Went up to London to an exhibition at Olympia.
30/5/2018 Boston to Grantham and return.
Drove up to Kings Lynn and then onto Boston where I caught a train to Grantham and back.
---
June 2018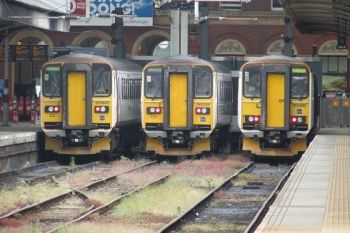 9/6/2018 Rayleigh to Shenfield and return. Shenfield to Colchester. Colchester to Norwich. Norwich to Great Yarmouth via Berney Arms. Great Yarmouth to Norwich via Acle. Norwich to Lowestoft. Lowestoft to Ipswich via Beccles. Ipswich to Chelmsford. Chelmsford to Shenfield.


Went up to Norfolk for the day, mainly to visit the Wherry Lines and go to both Great Yarmouth and Lowestoft which I hadn't done for over ten years. My train fare to Norwich from Rayleigh was a mere £7.90 each way (with a Senior Railcard), plus I bought an Anglian Lines Rover for just £12.50 which meant quite a chap day out. All my connections were on time, so no misssed trains anywhere. I was originally planning to go to Lowestoft first and then Great Yarmouth, but in the end I did it the other way round, so I could return on the Suffolk Coast line. This was a blessing in disguise as if I had gone to Yarmouth second, my planned train back to Norwich was cancelled, so I would have been stranded there and miss my train at Norwich back to Shenfield. A bonus was that they had had class 37's hauling some Yarmouth services so I was able to be hauled by one of these on the 13.18 service. It was actually quite full and went non stop via Berney Arms.
24/6/2018 Isfield to Worth Halt and return. Northam to Tenterden Town and return. Northam to Bodiam and return.
Had a pleasant day out in Kent and East Sussex visiting two preserved lines in one day. The first visit was to the Lavender Line which we should have gone to a couple a years ago, but we were let down by the local buses not going there. We should have left at 11.00am but were waiting for the fireman who had been involved in a cycle race earlier that morning, according to his wife! When we did eventually go, it was in a brake van - a first for me, though only for about a mile, such is the shortness of track on this railway. Then we drove for about an hour across East Sussex to Northam where we caught a train almost immediately to Tenterden, on the Kent & East Sussex Railway. There was a bus rally on at Tenterden station, so we viewed these before going into the museum and then coming back right through to Bodiam. We then got off the train back at Northam where we had a pleasant cup of tea on the platform, watching the train depart. Very relaxing and enjoyable. Interesting to note that there are several holiday coaches next to the station at Northam, as well as a hairdressers in another preserved coach. A lovely preserved country railway station in a pleasant setting in the middle of nowhere!
---
July 2018